Pause Cat Cafe is a non-profit cafe in Bournemouth that is home to 11 rescue cats, offering a relaxed environment for cats & people to enjoy each other's company.
Training placements at Pause Cat Cafe
Fresh Charity run training placements at Pause Cat Cafe, which enable young people to gain confidence and skills in a therapeutic setting. Being around cats can enhance mood, relieve stress and increase happiness, which makes Pause the perfect environment to learn in. Fresh Charity and Pause are proud to offer training to all young people from aged 14 and upwards, and we are inclusive of young people with disabilities, learning difficulties, or mental ill-health who may otherwise find it difficult to enter a working environment and gain the skills and confidence to get into employment.
What's it like working at Pause?
Sam started volunteering at Pause when he was 15. The skills he learned during his training at Pause have helped him move on to a barista job making speciality coffee. Sam says he gained so much, including building his confidence and meeting new people.
Read more about Sam's experiences at Pause Cat Cafe: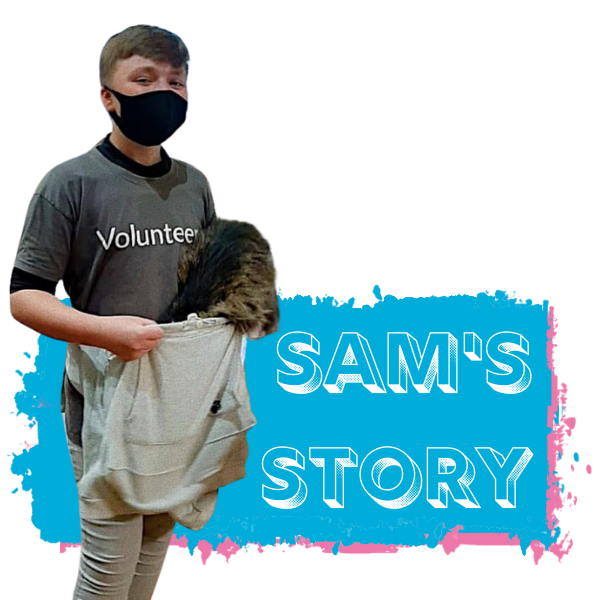 Would you like to train at Pause?
There are lots of ways that you can join the team at Pause Cat Cafe, and it doesn't matter if you don't have experience or haven't worked anywhere before because of your age, disability or any other reason. If you are interested, then contact us using the button below. Let us know a bit about yourself and we'll be in touch to get things rolling.
Would you like to support someone with a disability?
Some of our trainees have additional needs such as physical or learning disabilities, or are very shy and need one-on-one help to complete tasks. If you are a patient and caring person who wants some experience of supporting others, would you like to volunteer some of your time to help someone shine?
Help us support a young person at Pause
For 4 years we have been working hard developing this project and our placements have helped hundreds of young people grow their confidence and skills, springboarding them on to bigger and brighter lives. We have proven that what we do works, and we want to work our magic with more young people…but we need your help!
To fund a placement for a young person with additional needs or disabilities costs £11 per hour. Your donation will contribute to a member of staff who supports our trainees, creating learning plans and working one-on-one to help the person develop their abilities and confidence… please donate here. Thank you for empowering young people!